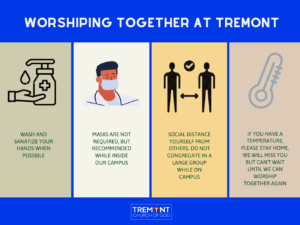 WORSHIPING TOGETHER AT TREMONT
1. Wash and sanitize your hands when possible
2. Face coverings are not required but strongly recommended
3. Please practice social distancing of 6ft. Do not congregate in groups while inside the church building
4. If you have a temperature or are showing symptoms of sickness, please stay home. While at home, you can view our services online on Facebook and our webpage. When you are well, we look forward to worshiping with you again.
OUR PROMISE TO YOU
YOUR SAFETY IS OUR #1 PRIORITY. WE STRIVE FOR ALL SERVICES HELD AT TREMONT TO FEEL WELCOMING, COMFORTABLE, AND SAFE FOR OUR MEMBERS AND GUESTS!
1.
All rooms, hallways, worship centers, restrooms and seats are sanitized and cleaned before and after each service.
2. All hard surfaces are wiped down and sanitized.
3. Non-essential areas are blocked off for everyones protection.
NEW SAFETY MEASURES
1.
Hand sanitizing stations have been placed at each entrance to the church building
2. Face masks are available for anyone who does not have one at our Welcome Center.
3. Touchless giving is available through the EasyTithe app and giving baskets at each entrance to the worship center.
4. Rows of seats have been moved 6ft apart in order to practice social distancing.
5. Two services: 9:00am and 11:00am